About a quarter of the 4,000 families in Malenga Mzoma are considered subsistence farmers, which means they grow enough food to survive but have no surplus and no form of income. One in eight people eat only once a day. This is absolute poverty. (Baseline Household Survey, 2016.)
The Foundation has 16 lead farmers who are being trained in the best organic methods to increase variety and yield. Between them, the lead farmers are teaching over 120 families in turn.
The most exciting part of the Farming Improvement Programme is bokashi production. Bokashi is a fermented organic addition, a biofertiliser that greatly – and naturally – improves soil fertility.
Thirteen of the lead farmers and dozens of the farmers they guide have been trained in bokashi manufacture. The results are truly astounding.
Bokashi is made from 7 sacks of dry manure, 7 sacks of cereal husk, 1 sack of cereal bran, 1 sack of charcoal, 25 kilograms of ash, 10 litres molasses, 500 grams of yeast, untreated water (as required).
As all the ingredients can be sourced locally for minimal outlay, it costs just £8 to enable a farmer to make bokashi.
Once a family can feed itself properly, it can improve its general health and generate a surplus for sale at market. In turn that means children can go to school (primary education is free in Malawi but secondary education isn't) and the family can thrive in the community.
Making bokashi is therefore an extremely cheap way to help raise a family out of dire straits.
If you are inspired to help a family, please donate. As staff time is spent conducting bokashi training and monitoring results, topping up your donation to £10 would cover that staff cost as well.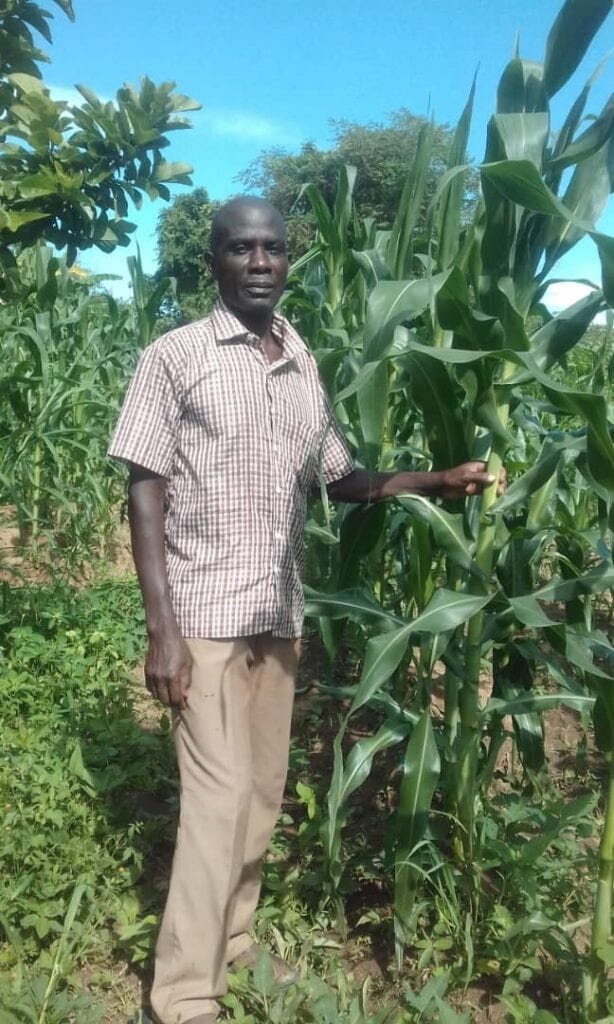 Photos
Ruth Phiri, a Lead Farmer, weeds her excellent bokashi-aided crop of maize.
Lead Farmer Kenani Manda proudly shows the effect of bokashi on his maize crop.