Almost a hundred people graduated from the Capacity Foundation's adult literacy Academy on Friday, 17th February.
This, our fourth graduation, was the largest cohort to date, bringing the total number of graduates to well over 300. Each graduate received a certificate recording their achievement – a pass mark of 75% in both ChiChewa (the national language) and mathematics. Capacity's literacy and numeracy examinations are authenticated by Nkhata Bay District Council.
A particular feature of this ceremony was the emphasis on persuading more men to attend the classes. Speaking at the graduation ceremony, Thandira Gondwe from Nkhata Bay District Council, pleaded with men in the community to come forward and take their places in the classes.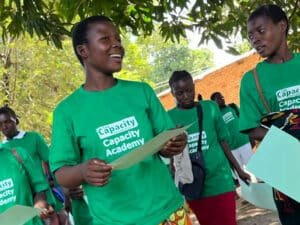 This time around, 12% of the 97 graduates were men, with Jimmy Chirwa (in the red shirt) among the youngest at 17 years of age; the very youngest was Yamikani Kaunda, just 16.
Some of the graduates simply want to be functionally literate, while others want to graduate so they can move on to Capacity's small business marketing course and the opportunity to take out a microloan to start or grow a small business.